Our event was a huge success!

12 Greek artists will each expose hundreds of their newest jewels at The BarKing Cat from 15th till 30st May. We know you don't like maths, so we'll do them for you: this ends up being more than a thousand jewels at one spot!
EXHIBITION CONTEMPORARY GREEK JEWELRY! Part 2
Days and Hours:
15 – 30 May​ 2017
11.00 – 19.00 pm
The exhibition will take place at the artistic hub,
The Barking Cat, ​Rue Berckmans 1A, 1060 Bruxelles
(Place Stephanie) Saint Gilles, Tel: + 32 (0) 476.69.65.97
info@thebarkingcat.eu
http://www.newsville.be/sygxrono-elliniko-kosmima-stis-bruxelles/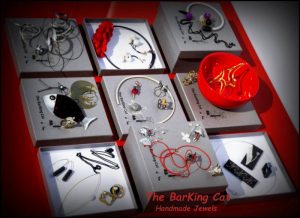 Stay up to date with our Newsletter
No products found which match your selection.