Our event was a huge success!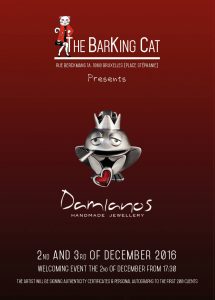 On 2nd and 3rd December it is our privilege to welcome our Greek friend and well-known jewels' artist "DAMIANOS" from 11h00 till 19h00!
"DAMIANOS"' arrival will be celebrated on the evening of 2nd December, from 17h30 till 22h00, in the typical The BarKing Cat's way!
Please join us to celebrate the start of the Holidays' Season with the opportunity to purchase a unique gift for your loved ones, chosen among the jewellery from "DAMIANOS"' brand new collection. A personalized signed certificate of authenticity comes with every jewellery!
 EXHIBITION DAMIANOS
Days and Hours:
02 and 03 December​ 2016
11.00 – 19.00 pm
The exhibition will take place at the art gallery
The Barking Cat, ​Rue Berckmans 1A, 1060 Bruxelles
(Place Stephanie) Saint Gilles, Tel: + 32 (0) 476.69.65.97
info@thebarkingcat.eu
http://www.newsville.be/to-barking-cat-stis-bruxelles-parousiazei-tis-dimiourgies-tou-damianos/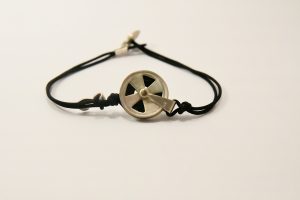 Stay up to date with our Newsletter
No products found which match your selection.