In our shop we host artists from Greece and not only ….
These  artists showcase exceptional talent and creativity. We wish to share this with the local audience of Brussels and bring you closer to the elegance and creativity that each of these creators brings to life. Explore the world of the BarKingCat online but don't hesitate to visit us and get to know and admire creations from up close.

Bord De L'eau Design Factory
Yannis Gounaridis is a third-generation jewel craftsman carrying a long family tradition and updating it with a contemporary, minimal twist. He specializes in jewelry microsculpture using wood, metal and his trademark turquoise stone.
We are a design studio, specializing in hand-made, premium-quality jewelry, furniture, and renovation services. Our inspiration comes from the contrast between the natural and the industrial. Our design philosophy attempts to recreate that contrast, which is reflected on both the materials we use and the colors we apply. We combine our unique design and exceptional craftsmanship with unrefined materials to deliver stylish products and spaces.

Born in Hania-Crete in 1981, Evgenia Zoidaki followed Applied Arts major in High School and in 2003 she graduated from the Mokume School of Higher Education where she studied design and crafting of handmade and productive jewellery.
Since 2004 she has participated in group exhibitions: at Mokume School, in Ilias Lalaounis Jewellery Museum and in Eastpack Artist Studio. She has worked in jewellery studios as a designer and artisan. Since 2015 she runs her own studio, Evzo, where she creates jewellery made of silver, gold, copper, mineral stones, synthetic materials. All her creations are inspired by everything that surrounds and affects her, from ancient art to whatever the eye captures in modern cities.

Coming from an artistic background Ariadni Kypri has been experimenting with techniques and materials since she was a young girl, making as core of her work a game between form and matter. Her jewellery collections tell an unexpected story using the silouet as a narrative.
Her work with materials is meticulus and delicate turning them into microsculptures or fine objects that adorn the body in most unexpected ways. Fairytales, books, travels, nature and natural elements spark the start of her inspirational journey. Observation however is the key that unlocks the design process and is fulfilled when every little detail has been thoroughly and thoughtfully studied.

Barbara was born in Piraeus, Greece. She studied interion design and at the same time she took drawing courses. When she completed her studies, she worked in architectural offices and also as a freelancer. Then she worked in the field of graphic arts for 6 years. She also undertook jewelry studies around the same time. Her professional career in the field of handmade jewelry began in 2000.
Copper is combined with silver, semiprecious stones and other-mainly natural-materials. In the Miaou Niaou collections, classic figures-filled or hollow, bound to each other or with stones-are a field of experimentation:squares woven with strings, reminding us of looms;circles united just like our lives; triangles painted like the old-fashion jerseys of our childhood. The designer recounts abstract stories, playing with shapes, colors and materials.Her inspiration come from the past and the present, shadows and light, emptiness and emotions, harmany and contrasts.To be continued….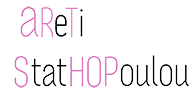 Areti Stathopoulou is a jewelry designer from Thessaloniki, Greece. She studied metalsmithing at the National Institute of Professional Training for 3 years, and then carried on with her training at Mokume Vocational Institute studying handcrafted Jewelry and Design for another 3 years.
Upon completing her studies, she worked at various Thessaloniki workshops for 9 years, taking part in all the processes of jewelry design and production. In 2008, she opened her own studio in Thessaloniki, where she was free to combine various metalsmithing techniques with contemporary design. She gets inspired by natural organic forms and urban aesthetics. This inspiration is expressed by experimenting with precious metals and natural materials. Her latest creations include unique pieces of jewelry with silk cocoons combined harmoniously with silver, brass and semi-precious gems.

Fascinated with sculpture, she studied at Central Saint Martins College of Arts and Design in London. Upon her return to Athens in 2011 she has been professionally engaged in the design of handmade jewelry under the name "B | tal". Her jewelry designs aim at gently embracing the human body, while being eye-catching and unique. Strong feelings and movement, in an abstract, notional way, are her cardinal sources of inspiration.
Her work is also deeply influenced by her traveling without distancing itself from her Greek heritage and roots; indeed, one may frequently find the architectural lines of buildings and venues around the world transposed, often in a manner reminiscent of classical antiquity norms, in her creations. Her handmade jewels are made out of gold, silver or bronze and are always cast using all fundamental metal techniques. Numerous pieces of her collection have gems, such as white and black diamonds, sapphires and tsavorites.

Damianos was born in 1973 in Athens. Influenced by nature, people and their emotions and also their traditions combined with surreal motifs, his designs come to life via the creation of significantly expressive jewelry triggering a variety of positive emotions: joy and excitement, expectation and hope, but also encouraging speculation. His creations are 100% handcrafted. He is mainly using silver, liquid glass, smalt, oxidation and semi-precious stones. Since 2015 he operates his own art shop in the centre of Athens.

Born in Thessaloniki in 1975, she has been crafting purely minimal art jewelry for the last 10 years. She has co-operated with the Macedonian Museum of Modern Art and with the Tellogleion Foundation. Her creations can be found in central shops in downtown Thessaloniki, Athens and many Greek islands. She has also participated in various exhibitions and events.

At the age of 8 Alexandros started making pots out of mud offering them as gifts to his mother, discovering that he could create beautiful things using my own hands. His first jewelry exhibition took place when he was 25 years old.
Today, and after 12 years within the jewelry journey, he has built long term co-operations with many Greek and international suppliers who recognize his passion for precious metals. In Brussels visitors will be able to discover his handmade creations inspired by all those years of hard work and devotion to what he loves the most.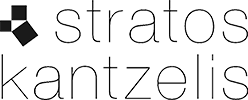 He was born in Athens and studied Architecture in Scotland, where he also practiced as an Architect for many years. Since 2009 he is designing and fabricating unique pieces of jewelry as well as objects, utilising contemporary and traditional techniques.
In 2012, he was awarded by the Netherlands National Museum of Silver in Schoonhoven the 1st Prize for the Schoonhoven Silver Award (an international Silversmithing competition) for a sculpture installation of his made of Silver.

Konstantinos Georgopoulos
After his studies at the Technical School of of Silversmithing and Goldsmithing Techniques in Athens, Konstantinos worked for years in various jewelry workshops. It took him quite some time for the next step: opening his own workshop. Driven by his passion for jewelry, Konstantinos is experimenting mainly with metal.
But what if a traditional metalsmith "abandons" metal and starts working with other materials? Is this transition easy and does he/she need to use different tools and machinery? Following his love for jewelry, Konstantinos is constantly trying to prove that there must be no "limits and labels" on creators. Devoted to his principles of simplicity and minimalism, his designs are statements of what "jewelry-creation" means to him: symbols of personal meaning.