Our event was a huge success!

EXHIBITION CONTEMPORARY GREEK JEWLRY Part3 !
Imagine (or remember) what Place du Chatelain looks like during summer! Now add hundreds of the newest creations of 12 Greek contemporary jewels' artists. Let's prove that Curiosity (Store) will indeed kill The (BarKing) Cat from 1st June till 1st July!
Days and Hours:
01 June ​and 1 July​ 2017
11.00 – 19.00 pm
The exhibition will take place at the art gallery
The Curiosity Store, Rue de L'aqueduc 104, 1050 – Ixelles
info@thebarkingcat.eu
http://www.newsville.be/bucephalos-synanta-to-sygxono-elliniko-kosmima/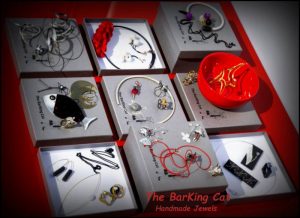 Stay up to date with our Newsletter
Display 9 Products per page